EIC 2015 – Berlin
The Belgian Team did fight hard at the 22nd European Iaido Championships 2015 in Berlin !!!
One day seminar with 22 countries represented, everybody in the team exited and happy to meet all European Iaido friends and receive the teaching of 3 great sensei: Yamazaki sensei, Kusama sensei and Azuma sensei all Iaido 8th dan Hanshi.
Nice competition results with 3 medals: 1x Silver, 1x Bronze and 1x Fighting Spirit. In Godan – Fighting spirit Yuki, Rokudan – Bronze Michael and Nidan – Silver Kim Croes. The team won the Bronze medal with a team composed of Kanto Yuki, Vervack Valentin, Kim Croes and Daan Heungens.
The BYK was well represented this year within the team with Philippe B., Michael S., Kanto Y., David D. Gregory V.G. and Everybody enjoyed the seminar, the competition and of course the after keiko moments.
Congratulations to everybody and let's continue to train hard. Gambatte !!!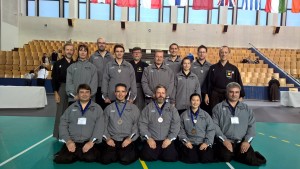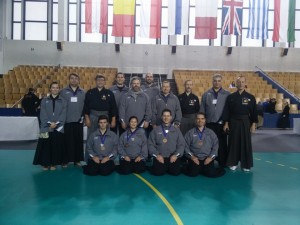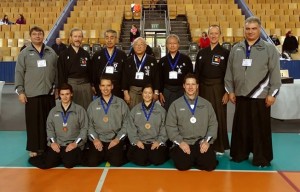 Posted: October 26th, 2015 under Dojo, Iaido, News.
Tags: EIC