Oda Katsuo Sensei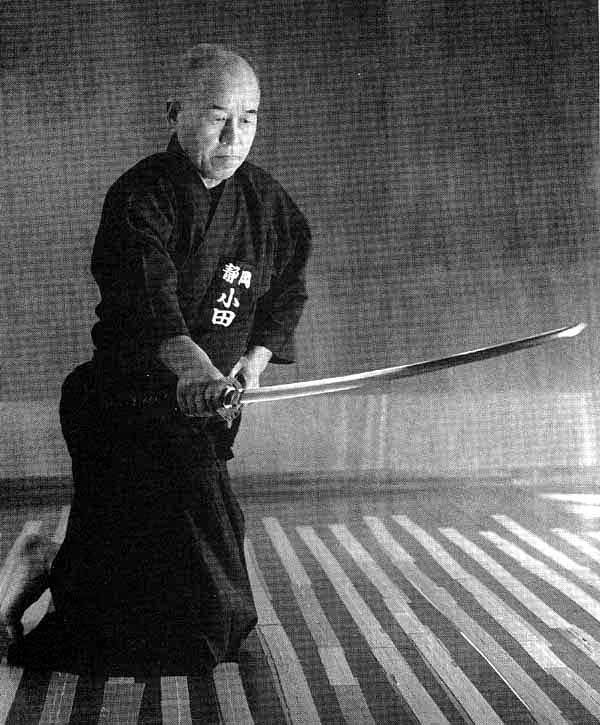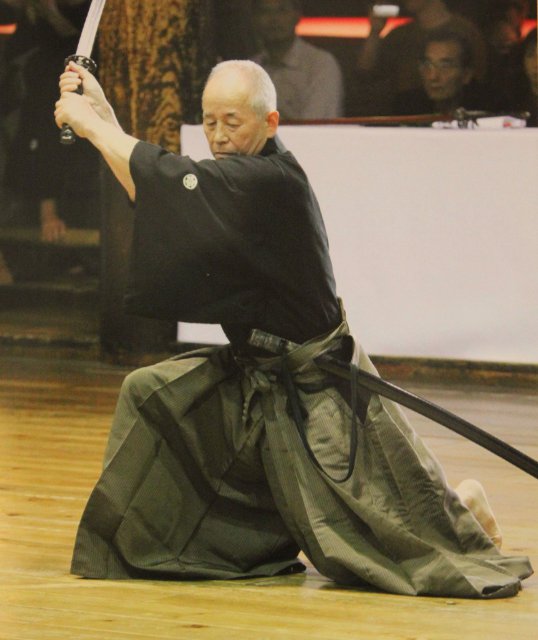 Oda Katsuo Sensei – Iaido 8th Dan Hanshi – Kendo 7th Dan Kyoshi (1942-2020)
Oda Sensei is our official and main teacher since 2001. We follow his teachings concerning ZKR Iai and we follow the Eishin Ryu of Oda sensei.
ZNKR Iaido & Muso Jikiden Eishin Ryu study through Sakamoto Kichiro 9th dan Iaido (Hogiyama Namio -> Fukui Harumasa) / Kimura Shoji sensei (Shun Fu Ka / Dai Ken Kyo – Osaka Kei) and later on with Yamamoto Harusuke Hanshi -> Yamashibu Yoshikasu. He continued his study of Iaido later on 1974 with Haga Tadatoshi sensei 8th dan Hanshi Kendo/Iaido. Oda sensei now teaches at the Miyamoto dojo in Shimizu, Shizuoka prefecture

Miyamoto dojo – Shimizu, Shizuoka
Miyamoto sensei and Oda Katsuo sensei
Source: Kendo Nippon N°293 July 2000
————————————————————————————————————————————————————————- Oda Katsuo
Birthdate 07/01/1942
Iaido 8th dan Hanshi – Kendo 7th Dan Kyoshi – 2005 curriculum
ZNKR Administrative
President Shimizu Yaegaki-Kai
Vice-President Shizuoka Kendo Federation
Administrator Shizuoka Kendo Renmei
President Shizuoka jury/judges comity
Kendo/Iaido Gradings
1982 Kendo 6th dan Kyoshi
1988 Kendo 7th dan Kyoshi
1984 Iaido 7th dan Kyoshi
1993 Iaido 8th dan Kyoshi
2005 Iaido 8th dan Hanshi
Hakone Taikai 8th dan
2x particip. 1x Bronze 1995
Osaka Yaegaki-Kai Iaido Championship
5th dan 2x Bronze 1976-77
6th dan 1x Gold 1984
7th dan 1x Yushusha 1989
Osaka Kendo Renmei Championship
5th dan 1x Yushusha 1976
7th dan 2x Yushusha 1991-1992
Tôkaiyonken Championship
9x particip. 9x team gold medal
All Japan Iaido championship
5th dan 4x particip. 1x in top 8
6th dan 3x particip. 1x in top 8
7th dan 2x particip.
Jury/Judge selections
8x Selected as 6/7 th dan Iaido jury
13x Selected as National Iaido jury
Foreign delegations
1991->now Belgium,
1997 Great Britain,
1998/2000 Italy,
2000->now Australia,
2002 France,
2003 Poland-Bulgaria-Serbia-Montenegro,
2005 Brazil,
2005->now Greece
Iaido curriculum
1957 Start Kendo at commercial school of Shimizu
1966 Follow Iaido teaching under Sakamoto Kichiro sensei and later on Yamamoto Harusuke sensei (1892-1978) supervision
1974 Due to work sensei moves to Shimizu – Hamamatsu and follow the teaching of Haga Tadatoshi sensei – Kendo/Iaido 8th dan Hanshi
Championship participations
– Shizuoka Iaido Champ.
5th dan 3x Gold 1975-1977-1978
5th dan 1x Bronze 1976
– Shizuoka Yaegaki-Kai Champ.
5th dan 1x Gold 1975
5th dan 1x Silver 1977
6th dan 2x Silver 1979-1980
– Kagawa Iaido Champ. KR
5th dan 1x Silver 1978
6th dan 1x Bronze 1979
– Chunichi Champ.
6th dan 2x Yushusha 1979-1984
7th dan 2x Yushusha 1985
– National Champ. Ryuhasenbatsu
6th dan 1x Silver 1984
7th dan 1x Silver 1988