19th EIC 2012 – Stevenage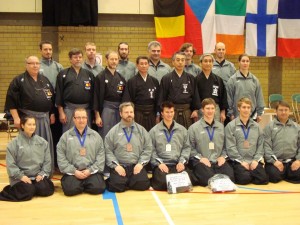 Great results for the Belgian Team at the 19th European Iaido Championships 2012 in Stevenage !!!
A rewarding event including one day seminar and two days of competition with more than 180 participants. Everybody in the team was very happy to meet again all European Iaido friends under a northern (even for a few minutes "snowy") climate. Japanese delegation was this year composed of Kusama sensei, Aoki sensei and Kamikokuryo sensei all 8th dan Hanshi.
Intense individual and team competition ended with great results: 2x Gold, 3x Bronze medals and the Silver medals for the Team competition.
– 6th dan: Philippe B. Bronze medal (B. Yaegaki-Kai)
– 5th dan: Michaël S. Bronze medal + Team Silver medal (B. Yaegaki-Kai)
– 3th dan: Jonathan V. Gold medal + Team Silver medal (Hagehacho)
– 2nd dan: Valentin V. Gold Medal + Team Silver medal (Kendo Ghent)
– 2nd dan: Stof D. Team Silver medal (Kendo Ghent)
– Mudan: Cool "Belgium" Steven Bronze Medal (Kendo Ghent)
Full competition results can be found here
Let's also congratulate our friends from the Greek team who did a fantastic job with 2x medals in the Mudan division with Gold and Bronze.
Congratulation to all of those who passed their examination. Remember this is is not the end of something but just the beginning …
Finally a big thank you for the flawless BKA organisation and to all the participants. Let's continue to train hard. Gambatte !!!
Posted: November 5th, 2012 under Dojo, Iaido, News.
Tags: EIC, European, taikai