BIC 2010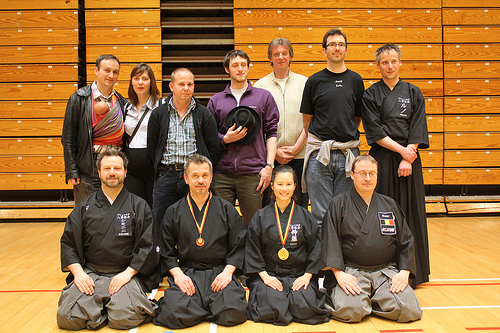 The Belgian Iaido Championship 2010 took place this Sunday 16/05/10 10:00->17:30 at the Palais du Midi in Brussels. As Shinsain this year I was very happy with the Belgian Iaido level with good matches and thrilling finals from Mudan to Yondan. Finals competitor's level was very close and decisions were hard to make. Finals were shortly followed by examination from ikkyu to sandan, 5th / 6th / 7th dan Embu and Awards. Congratulations to all the participants and organization staff …
BIC 2010 Full results:
MUDAN
1. Vervack Valentin
2. Renneson Fabrice
3. Leclercq Tessa
3. D'Haene Davy
FS. Thielemans Eric
SHODAN
1. Arnou Maarten
2. De Roover Christof
3. Lammens Arno
3. Wauters Tom
FS. Vandendriessche Thomas
NIDAN
1. Pauwelyn Nicolas
2. Props Joris
3. De Boom Tom
3. Loozen Laurens
FS. Pappyn Ilse
SANDAN
1. Vandenbussche Jonathan
2. Beausire Michael
3. Vlaminck Julien
3. Vlad Liviu
FS. Yano Chieko
YONDAN
1. Kanto Yuki
2. Dumoulin Kurt
3. De Burghgraeve Alain
3. Hertveldt Luc
FS. Van Den Broeck Albert
The Brussels Yaegaki-kai did well this year with a Yondan Gold medal for Yuki, a fighting spirit for Eric in Mudan and the participation of Patrick in the Nidan division. Double congratulation to Eric who also passed his 1st Kyu. Kendo Gent did also very well with very nice results of Valentin in mudan, Stof in shodan and Luc in yondan division.
Unfortunately I was unable to take photos during the taikai but here are some of the Embu …